Saffron
The red flag of saffron is the most expensive spice in the world. Saffron is currently produced and packaged by hand, and this may be one of the reasons why saffron is expensive. Saffron is a native Asian plant and it has been exported from Asia to other parts of the world now the best saffron can be found in Iran. At present, it can be said that Iran is absolutely the largest producer of saffron in the world with a share of product 90% to 93% of the world's Saffron production. The city of Torbat Heydariyeh is known as the capital of the world's saffron with an annual production of 50 tons of saffron.
Saffron Brewing is essentially antidepressant and exhilarating and helps improve digestive function; it is also a diuretic and beneficial for kidney and bladder washing. It also facilitation of digestion, gastric bloating elimination, facilitation of blood circulation and hematopoiesis are other benefits. It also has antioxidant and consequently anticancer properties.
Every year, the saffron harvest season begins in early November. While most of the other vegetation has been gone, bright purple flowers cover the fields and create a prominent landscape in the arid regions of Iran. The main producers of Iranian saffron are located in the eastern part of the country. If you want to see the biggest saffron bazaar, go to Mashhad, which is also famous for its religious significance. But if you are more curious about where saffron comes from, remember the cities of Gonabad, Torbat-e Heydarieh, Taybad, Khaf, and Qaen. All of these cities are located in the Khorasan region, and their harvest season begins around the first of November, lasting approximately two weeks and a maximum of three weeks.
---
Persian Rug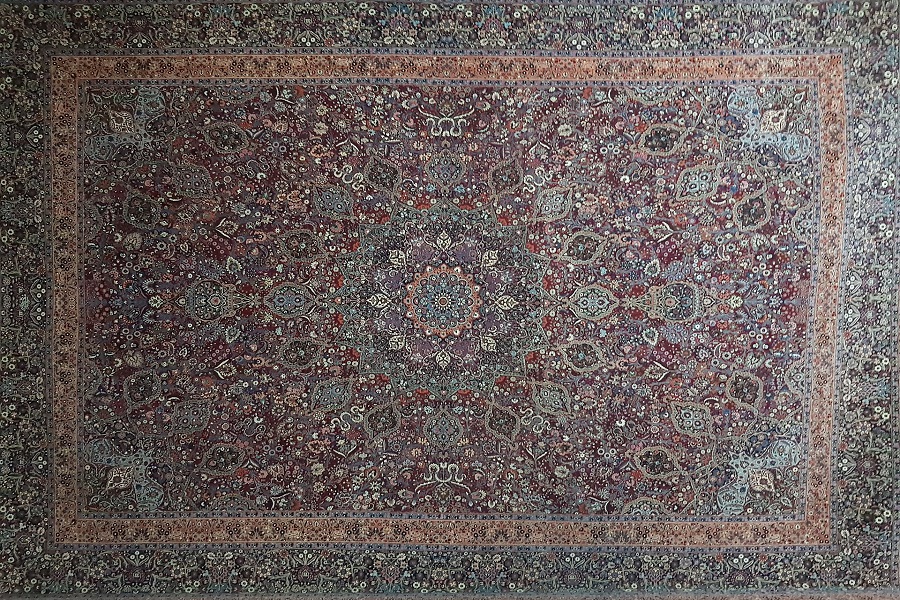 carpet or rug is a type of woven cotton, wool, and in some cases silk, commonly used to cover the ground. It is called woven and knotted carpet. The Persian carpet or Persian rug is an essential part of Persian art and culture. Carpet weaving is undoubtedly one of the most distinguished manifestations of Persian culture and art and dates back to ancient Persia.
The exquisitely intricate patterns and natural dyes have rendered it the most sought-after hand-made weave in the world with acknowledgment of superiority in every aspect. Persian carpets can be divided into three groups; Farsh / 'Qālii' (sized anything greater than 6×4 feet), Qālicheh (meaning rug, sized 6×4 feet and smaller), and nomadic carpets known as Kilim, (including Zilu, meaning rough carpet). Zilus are flat weaves but carpets or rugs are pile weaves. The oldest known surviving carpet in the world is the Pazyryk carpet discovered in an archaeological excavation in 1949 in the Pazyryk valley, in the Altai Mountains in Siberia.
The Pazyryk carpet was thought, by its discoverer Sergei Rudenko, to be a product of the Achaemenids. The rug is also considered today's decorative aspect since carpets and rugs have always been beautiful. The city of Kashan has been recognized as the capital of the world carpet from 2014 year onward, and this lasting work has been registered in UNESCO's Tangible Heritage No. 00383. Currently, there are more than 1200 machine-made carpets and 700 handmade carpets in Kashan and Aron, and Bidgol.
Carpet export in Iran is one of the most profitable economic activities. Among the many cities, villages, and tribes of carpet weavers in Iran, some are unique in style, design, and texture, and this has made them famous around the world. Moving from Turkmencarpets in northeastern Iran with their symmetrical designs with wool, which usually use deep red and blue colors, to northwestern Iran, cities such as Tabriz and Ardabil with silk are added to the texture and more detailed designs like garden and figure designs.
---
Pistachio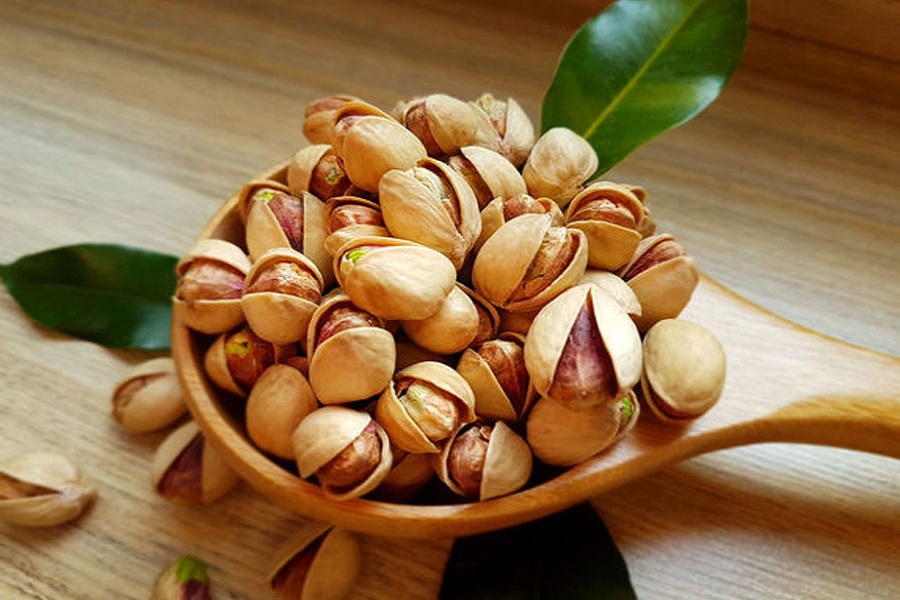 Pistachio is a small tree originating in the Middle East and Central Asia and grows in countries such as Iran, Syria, Turkmenistan, and western Afghanistan. Its fruit is edible and very delicate. Pistachio production in Iran was equal to 574,987 tons in 2017 year, making Iran the first in the world. After Iran, respectively the US and China are the second and third with a production of 272,291 and 95,294 tons.
The most important type of pistachio is the "Akbari" pistachio, which is known for its "super long pistachio" in the world. It is one of the most important pistachio varieties in the trade and Iran is the only major producer. This type of pistachio is mainly harvested in Rafsanjan and Anar cities. Pistachios are rich in copper, magnesium, and a variety of B vitamins that strengthen the immune system and prevent many diseases.
Vitamin B6 is essential for maintaining immune function. Pistachio also helps to make red blood cells properly. Iran and America are the two leading countries in the field of pistachio production and export in the world. These two countries have about 70 to 80 percent of the annual production of pistachio. Pistachio production in Iran is about 200 tons annually and only 10% of the product is domestically consumed and the other 90% is exported. Production and export of Iranian pistachios annually generate about $ 1.4 billion to $ 1.7 billion for Iran. Kerman province, Rafsanjan, Zarand, Kashkouieh, Sirjan, Pomegranate, and Iran are the main centers of pistachio production in Iran. The city of Boin Zahra in Qazvin province also has a significant share of Iranian pistachio production.
---
Minakari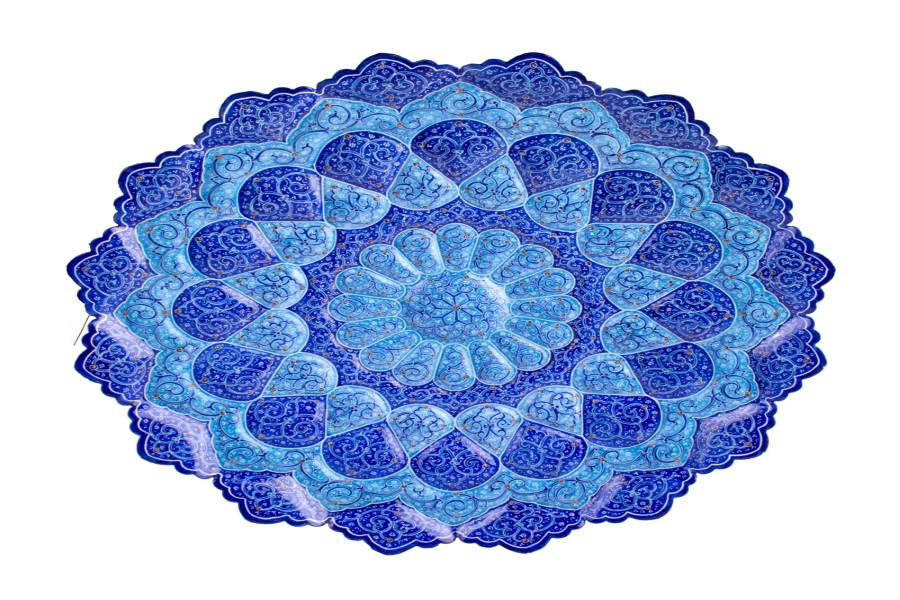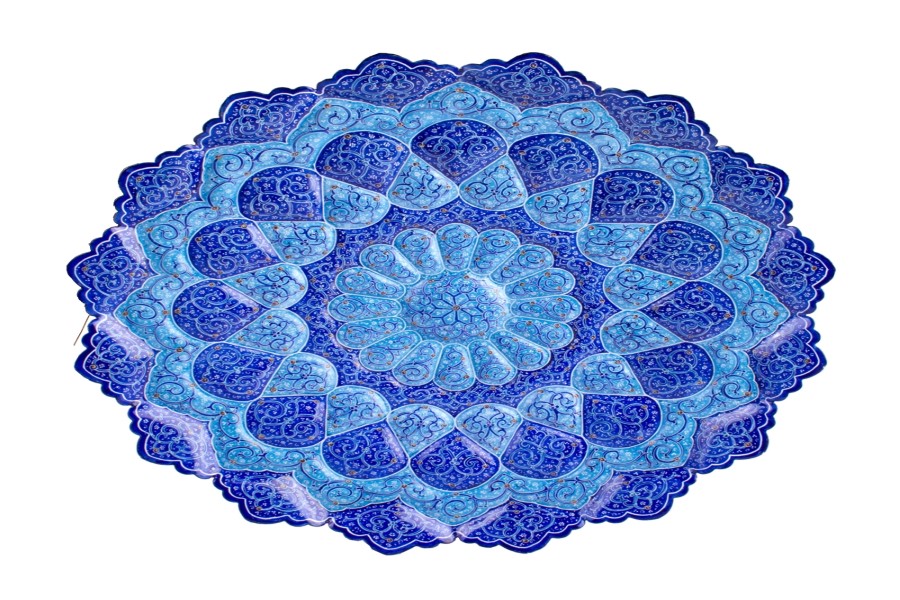 Enamel is a heat-fused glass paste colored by metal oxides and used to decorate metal surfaces. The art of "Mina Kari" or Enameling is the decoration of metal and tile with mina glaze. The closest literal meaning for enamel is blue sky. Enameling or Enameled is an art that has a history of about 5,000 years and is considered a handicraft. According to some experts, this art originated in Iran and then moved to other countries after matching Byzantine glazes with Iranian works. In Europe, of course, archaeological finds have a very long history. Nowadays, the art is mostly done on copper, but it can also be done on gold and silver.
Gold is the only metal that does not oxidize when the enamel melts, so it allows for a more detailed and similar design to be done on the enamel, while silver and silver enamels do not have this quality. Enamel on gold is the art of Saebin living in Ahwaz and is known as Seabee Gold. Enamel formation is also a combination of metal oxides and some salts at high temperatures (750° C to 850 ° C) where colors are formed over time and based on temperature. Nowadays in Iran, the center of production is Isfahan's enamel pots and enamel jewelry in Ahvaz, and distinguished masters are active in the production of enamel works. In terms of production method, the enamel is divided into two categories: Enamel Champlevé Enamel Painted A number of delicate, small cups with floral, bird, and arabesque designs illustrate the continued excellence of Persian enameling in the later 18th century.
---
Khatamkari
Marquetry is an ancient Iranian technique of inlaying. This is a version of decorative ornamentation, in which art forms are made by decorating the surface of wooden, bone, and metal precisely-cut intricate geometric patterns. Khatam-Kari or khatam-bandy refers to the art of crafting a khatam. Khatam Kari (also Known as Persian inlaid work) is a Persian version of marquetry means incrustation (incrustation work). The art came to Iran following the emergence of a direct relationship between Iran and China in a modern way before the Safavid dynasty, during the Mongol invasion of IL khan. Other scholars also believe the inauguration of the Dilaman dynasty in Iran and in the city of Shiraz peaked in the Safavid era, the other word because of the government's support for artists and on the other, for establishing commercial relations with countries far and near.
It was built more than a thousand years and the inlay was made of this method in the Shiraz Atigh Jami Mosque in Shiraz. This art has been mass-produced in Isfahan by a craftsman, but Khatam Shiraz still speaks first in terms of elegance and visual art. Ivory, gold, or silver are also used for high-quality luxurious objects. Many objects can be decorated in this fashion, such as jewelry/decorative boxes, chessboards, pipes, desks, frames, or some musical instruments.
---
Persian Miniature
The word miniature is derived from the Latin Minimum, meaning "red lead" which was used for pigments in the production of artistic works of ancient Romans and Middle Ages artists who illustrated religious manuscripts. Most scholars believed the miniature painting to have been born in Iran and later moved to China and it almost completely way has returned to Iran from the Mongol era.
Iranian artists have made an endless effort to complete and develop it. As far as the document shows, the first miniature painting in Iran belongs to the beginning of the Islamic period. Miniature painting is one of the arts that can depict all of nature in a small format. The subject of miniature paintings is usually hunters and hunters, various animals, birds, dragons, cormorants and dragons, angels, demons, dervishes, shepherds with their own sheep, master, and apprentice, youth sitting and standing, rural and agricultural life and events.
It is sometimes important historical events and miniature paintings have been used to decorate the margins of poems and scriptures. The miniature paintings and ornamentation are decorated on boxes of bones to give them a certain beauty. Production stages: Bone boxes are made of camel's bone, which is then cut into fat and shaped into different boxes and shapes. These bones have the same hardness as the stone, and for millions of years, they remain stiff and healthy and are of particular importance. After the painting process, to keep the painting stable and prevent them from being wiped, they use a material called polyester that is used in the final step to create a special, glossy effect on the surface of the boxes. Such handicrafts are often culturally or religiously wonderful. Painting is one of the major disciplines of the visual arts, dating back six times to the written language.
---
Termeh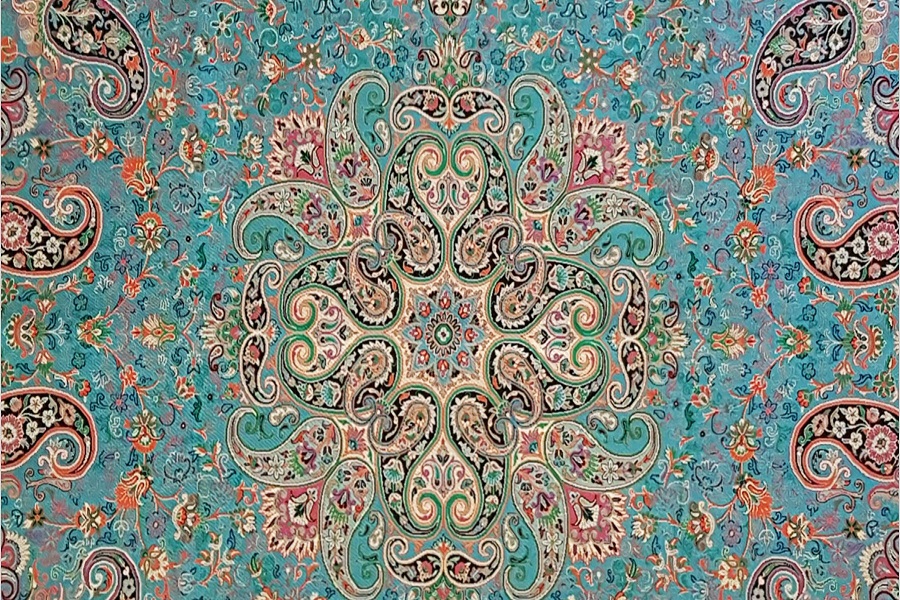 Termeh is a hand-woven cloth from Iran, primarily produced in the Yazd province. Weaving termeh needed good wool with long fibers. The Termeh is woven by an expert with the help of a worker called Gooshvare-kesh. Termeh has flourished in Iran since the early Safavid era but is now becoming obsolete and only termeh workshops exist in Yazd, Kashan, Kerman, and Tehran.
Silk and high-fiber wool are used for Termeh. The yarns are dyed with natural plant colors and synthetic materials, and mostly in jujube, red, green, orange, and black. At present fabrics is the machine in the market, handmade production is very low and not very economical and the traditional fabric will be custom-made only. Termeh is a silk thread and wool yarn, wool, Cork Alvan, and silk, and the Termeh texture was formerly fingerprinted and hence also known as fingerprinting, but was later partially done for tissue.
They used special machines. Common designs used in Termeh include Boteh and Jegheh, Shah Abbasi, and Deerhorn designs shawl, with various types that are shawl, charghadi shawl, striped shawl, Atabaki shawl, Mohramat shawl, Reza shawl, Kashmiri shawl, and Yazdi shawl. Termeh has been admired throughout history: Greek historians commented on the beauty of Persian textures in the Achaemenian period (532 BC), Ashcani (222 BC), and Sassanid (226-641 AD) periods and the famous Chinese tourist Hoang Tesang admired Termeh. Termeh after Islam's entered Iran. Because of the difficulty of producing Termeh and the advent of mechanized weaving, few factories remain in Iran that produce traditionally woven Termeh. Rezaei Termeh is the most famous of the remaining factories.
---
Qalamkari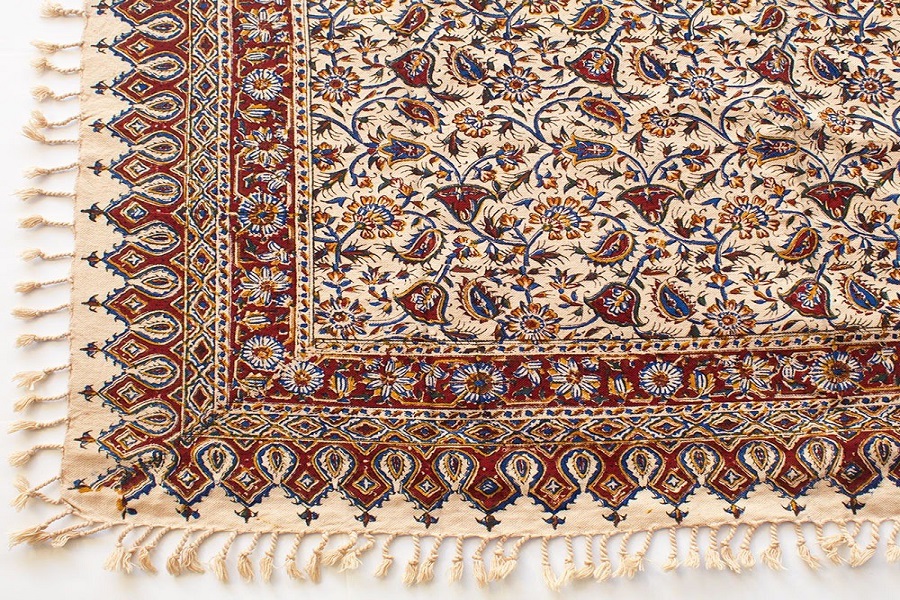 Kalamkari( Qalamkari ) is a type of colored or printed block cotton fabric produced in the Indian states of Andhra Pradesh and Telangana. Only natural dyes are used in Kalamkari and contain twenty-three stages. There are two distinct arts of Kalamkari art in India – Srikalahasti style and Machilipatnam style. "Etched" or Kalamkari is a word that speaks for itself. At the beginning of the art, the paint industry would use brushes on cotton and silk fabrics and then dye them; these beautiful and vibrant fabrics were widely used in aristocratic clothing. But as the demand for such fabrics increased and the pace of production of these fabrics had to be accelerated, the industry turned to print.
Of course, precisely the printing on the fabric is referred to as chit-making, which is nowadays called Kalamkari fabric as a puzzle. If we say precisely when Kalamkari or in other words the painting began on the fabric, we can refer to the fabric that belongs to the fourth century BC. It was discovered in the tombs of the Haft Bradar (Seven Brothers) of the Scythians. Another example is from a cemetery in Egypt. But its use became in the Mongol era, and Iranians began to design and print fabrics for use by the regard of the Mongol khans. When the Safadi seized power, artists came from around the country to the center of their rule in Isfahan, in order to support the Safadi monarchs, especially Shah Abbas. Meanwhile, masters of fabric painting came to Isfahan to be the main center of Isfahan's art production today. Apart from Isfahan fabric embroidery is also common in the following cities: Tabriz, Rasht, Kashan, and Mashhad.
---
Metal Working
The term tore tics, relatively rare in English, refers to artistic metalworking – hammering on gold or silver, engraving, or using repoussé and chase to create fine minute prints or small engraving patterns. Tore tics can include metal engraving – removing linear metal by pushing forward with a burin. The vast land of Iran has always been a demand for the creation of pure, original, and spiritual arts, at the same time commensurate with the lives of the people and the customs of their communities. Metallurgy and the use of metals, according to historical documents, date back to more than a thousand years BC.
The artifacts of each era represent a continuous and unmistakable movement that, in addition to the objective and material symbols in the form of containers, and cups. And… the created heart represents a spiritual space that has its roots in the beliefs that have dominated its period and ultimately have led to the emergence of sacred phenomena or spiritual and artistic phenomena.
Iranian metalwork is therefore an important resource for understanding the art of Iran in the Islamic period in particular and the history of Islamic art in general. The history of art in Iran has no clear history and comes from a documentary work that indicates the first place of an object and metal application, especially copper in Iran and the Near East some thousands of years BC. During the late second millennium and early millennium, BC metalwork flourished in various parts of Iran, especially in the north and northwest and on the southern margin of the Caspian Sea.
One of the most important works of this period is the Hassanloo Gold Cup, which was discovered in 1335 and has prominent motifs, such as the gods riding a chariot. In the first millennium, BC metallurgy and engraving in Iran had special prosperity and valuable artifacts from that era, including the Marlice Gold Cups. This art, with its thousands of years of history, flourished in the Achaemenids era and reached its peak in the Sassanid era Nowadays many artists employ many metals, such as gold, silver, bronze, brass, copper, Warsaw, and steel, to draw upon the experience of thousands of years and integrate it with modern technology to create and decorate highly decorated containers and artifacts. There are three main styles in the heart of Iran: Shiraz, Tabriz, and Isfahan.